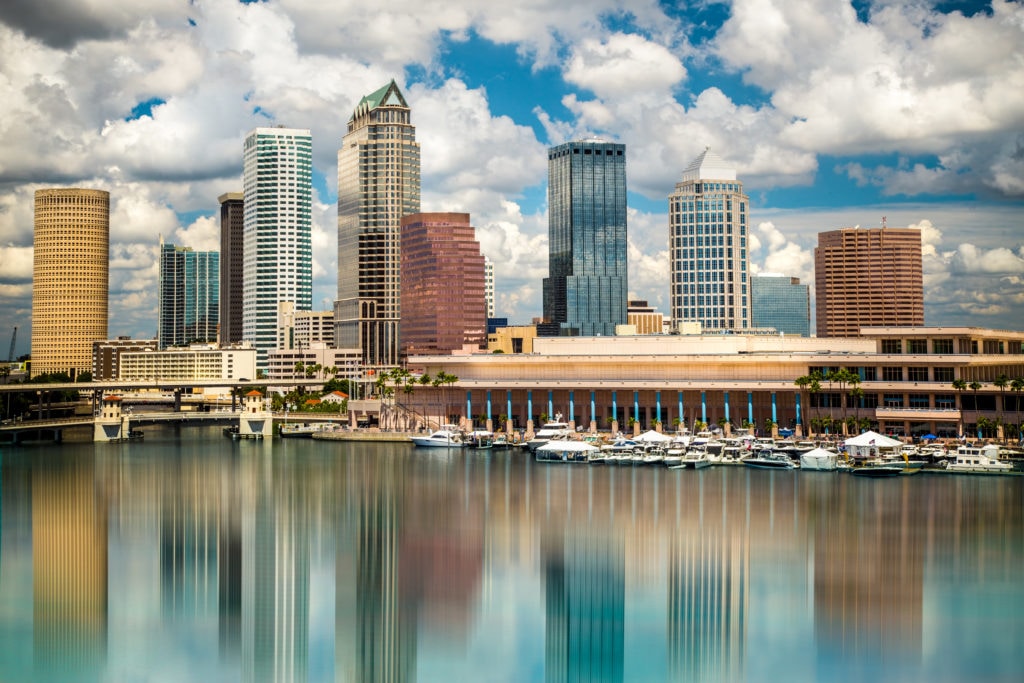 So you're thinking about moving to Tampa? Well…welcome! As a Tampa based mortgage company branch and a Tampa native myself, we have just about everything you need to make our town feel like your new home. Here are ten things to know about Tampa Bay:
No State Income Tax
We know, it's not the most exciting thing about Tampa but it's important to keep in mind when budgeting for your big move. Since Tampa, and Florida in general, attracts a lot of visitors we get the added benefit of not having to have a portion of our paychecks taken out for state income tax. It is just a little benefit for having to deal with tourist traffic (but don't worry, snowbirds are mostly only here from Thanksgiving to Easter).
The Weather
So long are the days of waking up early to shovel snow off your car and worrying about whether the roads are salted. Here in the Sunshine State, we are warm and sunny all year long! Temperatures tend to stay between 70 to 90 degrees and our 'cold' months are rarely lower than 50 degrees. It can get hot, which you'll get used to, but we also all have our A/C blasting so you will cool down instantly when you get inside. And yes, we do have hurricanes but we have preparations down to a science and our weather team keeps us updated constantly, giving us time to prepare or leave (or plan our hurricane party!). We are also considered the "Lightning Capital of the World" but don't let that scare you! Our thunderstorms rumble in at about 3pm to 4pm, shower us for a good 20 minutes to an hour and then leave us a cooler afternoon where we can eat our dinner on the porch. Trust us, it doesn't get any better than that!
Sports
Vague, we know. But if you are a sports fan then welcome and take a seat at any one of our various stadiums throughout the Tampa Bay Area. We have major league, minor league and everything in between! For our major league teams, we have the NFL Tampa Bay Buccaneers, the MLB Tampa Bay Rays and the NHL Tampa Bay Lightning (wonder where they got that name?). That's not all, we also have the spring training teams for the Toronto Blue Jays, New York Yankees and Philadelphia Phillies. We also have the professional Rowdies soccer team in St. Petersburg and the semi-pro Tigers football team. There is never a season without one of our teams playing so prepare to cheer all year long.
Beaches
Not sure why we didn't make this the first thing on the list because it is super important. The beach, and everything that comes with it, is why you move to the paradise of Tampa Bay. We are a panhandle, meaning we have water on all sides of us. Almost any road you drive will have water as part of the scenery. As for the lay-on-your-towel-and-get-a-tan beaches, we have plenty! The most beautiful are Honeymoon Island in Dunedin, Clearwater Beach in Clearwater and St. Pete Beach in St. Petersburg. Want to go to all three? Not a problem, just take Alternate 19 and having a beach-hopping day while stopping at the other great beaches like Madeira Beach, Indian Rocks Beach and Bellaire Beach. Each beach has its different qualities to give you the beach experience you need: Privacy? Indian Rocks, Bars and restaurants? Clearwater and St. Pete, Ferry to another island for a more private beach experience? Honeymoon to Caladesi Island (betcha didn't see that one coming!).
Location
Tampa is located in central Florida on the west coast of the state. This makes it a prime location for most travel within the state. We are about an hour north of Bradenton/Sarasota, an hour south of Weeki Wachee and Crystal River, an hour and a half from Orlando and its theme parks, two and a half hours to the other coast, four hours to St. Augustine/Jacksonville and Tallahassee and about four to five hours from Miami. The Keys and cities across the panhandle are a little longer of a drive but with enough snacks and a great road trip playlist, the drive through the lush landscape of Florida will be a breeze. The Tampa Bay area also has two airports, Tampa International Airport which is constantly adding new international locations (and not to mention is also ranked as one of the best airports in the world) and the St. Pete/Clearwater airport that offers many domestic flights to even smaller airports throughout the US.
I hope this is helpful information as you plan your move to the Tampa Bay area. Stay tuned for Part 2.